Volunteer teams are supported by the County Coordinator who is familiar with the facilities and their needs, and guides each step in the process of becoming a Pets on Wheels volunteer/pet team. This consists of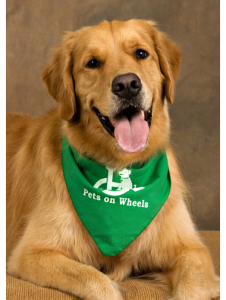 responding to an inquiry from a prospective volunteer, sending out an application and requesting a certification in writing from a veterinarian that the animal is healthy and medical records are up to date. Upon receiving all the necessary paperwork, the Coordinator then schedules a temperament test with a qualified volunteer screener to determine the pet's suitability for friendly visits.
The human member of the team visits the facility with the Coordinator before the team begins their visits. Pets on Wheels also conducts periodic workshops on various topics related to the elder population which we serve.